An Autumn full of events and a very dense cultural program is what AMA - Cimiteri Capitolini has planned: 74 initiatives organized for a total of 21 days dedicated to culture. Special events are also taking place every weekend at Verano, the Monumental Cemetery of the Capital. These events will intensify on the occasion of the Hospitality Project, the appointment dedicated to the commemoration of the Dead.
On Saturday 26 and Sunday 27 September through 22 November, you can attend the Passeggiate tra i ricordi: 11 standard itineraries to discover the arts - from painting to sculpture, from architecture to poetry - and the funeral monuments of famous people: historical figures, authors of Italian literature, theater, music, and cinema. All in the evocative naturalistic setting that surrounds the tombs and avenues.
24 October is the day of the inauguration of the exclusive itinerary Le 7 arti al Verano proposed with three different modes of use: as a guided tour, both in the complete version and with a reduced and accessible path, without stairs and other barriers; as a virtual tour with a preview screening in the Sala Mater Admirabilis del Verano of an unpublished documentary produced by AMA, which will subsequently be viewable on the dedicated youtube channel AMA. La Cultura al Verano, as a self-managed tour with the help of 2 APPs for mobile devices, presented for the first time on this occasion. Each of the two guides has about 100 georeferenced and illustrated stages with texts and images of cinema, theater, music, and entertainment artists, art, and architecture.
On 25 October, the final day of the Rome Film Fest, the special event celebrates of the 100th anniversary of the birth of Alberto Sordi and that of Federico Fellini, his faithful friend onset and life, through the ad hoc visit to Alberto and his friends and the recited readings of testimonies and memories.
Saturday 21 and Sunday 22 November, on the occasion of the anniversaries of the birth of Maria Montessori (1870) and Gianni Rodari (1920), a special visit is scheduled in memory of the two Italian excellences in the field of pedagogy, education, and literature for children.
You may also be interested in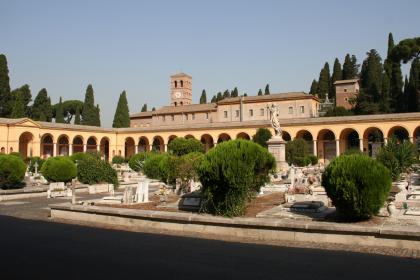 The Monumental Cemetery of Verano

Condividi
Informations
When
from 19 September 2020
to 22 November 2020
POINT (12.5186282 41.9011768)
Contacts
Web site:
http://visite.cimitericapitolini.it/
Timetables
Settembre
sabato 19 e domenica 20 - Evento speciale: 150 anni di Roma Capitale e il nuovo volto della città ore 10.00/14.00
sabato 26 e domenica 27 - Passeggiate tra i ricordi tematiche ore 10.00/11.00/14.00/15.00
Ottobre
sabato 3 e domenica 4 -  Passeggiate tra i ricordi tematiche ore 10.00/11.00/14.00/15.00
sabato 10 e domenica 11 - Passeggiate tra i ricordi tematiche ore 10.00/11.00/14.00/15.00
sabato 17 e domenica 18 - Passeggiate tra i ricordi tematiche ore 10.00/11.00/14.00/15.00
sabato 24 - Evento speciale Le 7 arti al Verano ore 10.00/12.30/14.00
domenica 25 - Evento speciale Alberto Sordi e le storie del cinema ore 10.00/14.00
sabato 31 - Le 7 arti al Verano ore 12.30

Novembre
domenica 1 e lunedì 2 - Passeggiate tra i ricordi tematiche ore 10.00/11.00/12.30/14.00/15.00
sabato 7 e domenica 8 - Passeggiate tra i ricordi tematiche ore 10.00/12.30/14.00
sabato 14 e domenica 15 - Passeggiate tra i ricordi tematiche ore 10.00/12.30/14.00
sabato 21 e domenica 22 - Evento speciale Maria Montessori e Gianni Rodari: Maestri di eccellenza. ore 10.00/14.00
sabato 21 e domenica 22 – Le 7 arti al Verano ore 12.30

Vedi programma dettagliato:
https://www.cimitericapitolini.it/public/visite-percorsi/locandina%20Programma%20autunno%202020.pdf

Condividi
Location
Autunno 2020 al Cimitero Monumentale del Verano, Piazzale del Verano
41° 54' 4.2372" N, 12° 31' 7.0608" E