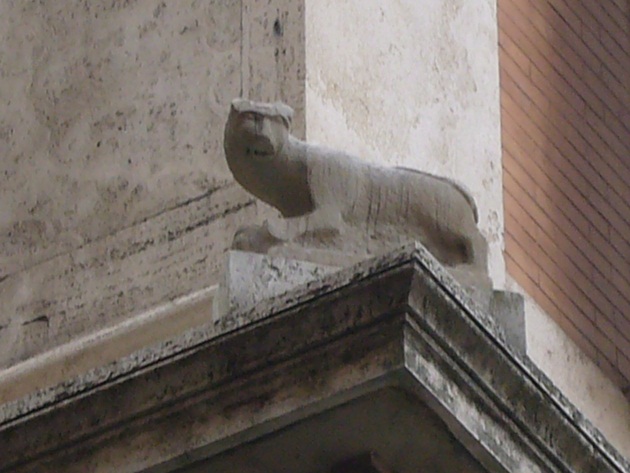 To spend a pleasant morning we suggest you a stroll through the streets of the old town in search of symbolic animals that evoke myths and historical events.     We start from the Capitol where at the foot of the curb that rises to the hillwe have two Egyptian Lions in black granite, in time become bored and changed into fountains; during the feasts they threw wine of the Castelli instead of water.      
Not far away near Palazzo Venezia onto Via della Gatta, so called because, right on the first ledge on the corner of Palazzo Grazioli, is a statue of an Egyptian cat found a few feet away in the nearby sanctuary of Isis. Legend quotes that in the direction the cat is looking at there should be buried a treasure, but no one managed to find it ... We continue the walk and reach Piazza della Minerva, where stands an elephant, familiarly called the Pulcin of Minerva, the name seems to be a kindness of the word "porcin" given by the Romans to the statue because it was deemed squat.      
Left the elephant we head towards the church of St. Louis of France, here on the facade are two salamanders erupting flames. This animal brings us back to an Asian legend according to which the salamander feeds the good fire while extinguish the harmful one. Not far from in the square of Sant'Eustachio a deer's head with a cross between the antlers is just above the church of Saint Eustachio. A medieval legend, linked to this statue, tells the story of Placido, a Roman military commander who was baptized and changed his name into Eustachio, after seeing the apparition of a cross with the image of Christ between the antlers of the deer he was going to kill.      
We move towards Piazza Barberini at the intersection of Via Veneto where we find three bees surmounted by a large shell: it is a fountain designed by Bernini in 1644 and restored in 2000.      
Our tour ends in Piazza Mattei where we can admire the Fountain of the Turtles made ​​in late 1500 on a project by Giacomo della Porta is linked to a romantic legend. It seems, in fact, that the duke Mattei wanted to prove to the father of his beloved to be a powerful man, contrary to what they deem, he built the beautiful fountain in front of his windows within a single night. Turtles were added later, in 1658, probably by Bernini, have been stolen several times, but always recovered and returned to their place. When, in 1981, it was again stolen a turtle, it was decided to replace them with copies, while the three surviving originals are preserved in the Capitoline Museums.  
You may also be interested in

Condividi
Fountain of the Tortoises

Condividi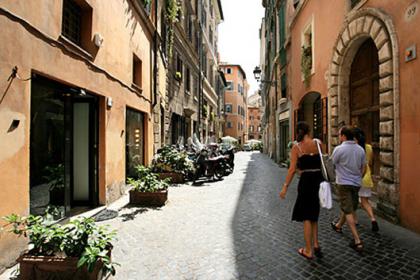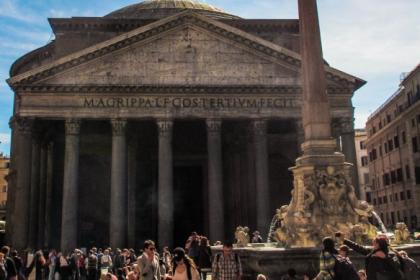 Piazza Navona and Campo de' Fiori

Condividi